Arwen's TMJ Success Story with Facial Growth Orthodontics
Arwen was having jaw and neck pain along with migraine headaches that slowly crept in on her life.
Find out how TMJ dentist, Dr. Green restored Arwen's ability to live a pain-free life and feel good again. Read more about her two-phase approach with TMJ treatment with physiologic dentistry and facial growth orthodontics.
Find out if you're a candidate for TMJ Therapy or Facial Growth Orthodontics.
Daniel - Hey I am Daniel, the practice manager for Springfield Smile doctor. We are here today with Arwen. Hey, Arwen thank you for sharing your TMJ success story with us today.
We appreciate you taking the time to share your successful journey with TMD and TMJ pain to now living pain-free. Tell us a little bit about who you are?
Arwen - Well I am Arwen, and I am married to my wonderful husband, and I have 3 beautiful kids. I also work as a coach at a local high school.
Daniel - It sounds like your very busy at home, and in the community, lots of people depend on you. So you don't have time for any TMJ stress to slow you down. So, tell me when did you first notice something wasn't right and when did that get started?
Arwen - I noticed around my early teen years pain kind of developing within my jaw. I've always been a teeth grinder, but it was about that age that I noticed some pain occasionally in the mornings. Then it's slowly progressed over the years.
Daniel - When you started to notice this pain you're thinking there has got to be some relief for this jaw pain. There has got to be some sort of solution, and you're young!
We see people at Springfield Smile Doctor of all ages, but you're a young person. Unfortunately, this type of TMJ pain or disorder can show up at any phase of a person's life. So tell me a little bit more about the signs and symptoms and tell me what hurt and where and what was going on exactly?
Arwen - My pain started in the jaw area when I would open or close, and then it just kind of grew so to speak into more areas. My symptoms include pain across my face, and even to the touch, it would be tender. Then that pain turned into headaches which were also connected to my neck and shoulder pain so it kind of just manifested into this big ugly beast.
Daniel - These TMJ symptoms sound similar to what we hear other patients describe. Based on what science shows us and what Dr. Green studies there is an integral link between the muscles in the face, the jaw, and the way that your teeth bite together. Your oral posture and posture is even related! A lot of people with this jaw disorder also have forward head posture.
Treatment for TMJ disorder at Springfield Smile Doctor is going to be more of a whole-health dental approach as Dr. Green and the team fully believe in the mouth-body connection.
Arwen, tell me some of the emotions that you experience with temporomandibular joint disorder, how was that affecting your life, your stress levels?
Arwen - I would say that the primary emotions I was experiencing were the feeling of hopelessness and being exhausted at the same time. I came to the realization that this was just something I was going to have to deal with and just learn to cope with day in and day out. I was feeling worn down every single day from the pain.
Daniel - That's something that we hear stories about all the time and Dr. Green is able to treat. Those treatable signs, grinding teeth, jaw muscle fatigue, jaw movement problems, limited jaw opening, lockjaw, chronic pain in the neck, face, and back are signals to the body that something is not right. They can turn into full-blown symptoms in an instant.
You're lucky that you're surrounded by your wonderful husband and your family and the community to love and support you. That support in stressful situations is something that is really important going through this journey.
Tell me what you remember about your first visit with the Smile Doctor Dr. Randi Green?
Arwen - My first visit was probably near perfect especially when your considering going to a dentist. Typically it's not just the most joyful experience, but it was far from that. They were extremely kind. Every single staff member that I encountered had a warm smile and genuinely cared about my specific situation and story.

Even though there were clearly other patients in the office, I almost felt if I was the only one at that time when they were spending so much time with me and getting to know me and what was going on.
"They were extremely kind. Every single staff member that I encountered had a warm smile and genuinely cared about my specific situation and story."
Daniel - I am so delighted to hear that you had an excellent experience with Dr. Green and her smile team. Dr. Green is committed to continual advanced training in her practice to help people like you find relief, and in most cases reliving them from years of physical pain.
How would you say Dr. Green and her Smile team are different from other dentists or doctors?
Arwen - Well, As I said earlier along with there kindness they are genuinely compassionate. They pay attention to every single detail. They want to know everything that's going on and they want to address that and come up with a plan to resolve those issues.
Daniel - Yes, and your comfort and patient experience every time you come into Springfield Smile Doctor is the number one priority and I can assure you the smile team is committed to resetting that expectation every time you walk into Dr. Green's practice.
How has the process of addressing and fixing your TMJ related issues affected your well being in your life your career, tell me about where you are on this journey?
Arwen - The biggest thing is that I am now pain-free, so with that, I am less stressed. I feel like I have more energy and more excitement to me instead of this kind of nagging pain that was always tagging along with me.
Daniel - Arwen what do you most look forward to now living pain-free?
Arwen - I look forward to being able to think about and focus my energy on other things. Not being consumed with pain anymore, I look forward to being able to appreciate every little moment in life again.
Daniel - That's so awesome Arwen. Thank you so much for sharing your TMJ success story today. We are glad to hear success stories like yours and very happy that you are sharing this journey with us and for the many other patients who might have some of the same things going on. We appreciate your testimony. Thank you.
Forwardontics with AGGA grows the top jaw forward and can start at any age.
See some of Dr. Green's recent jaw growth cases. Fuller lips, improved posture, a non-surgical facelift appearance are but a few benefits in addition to straight teeth!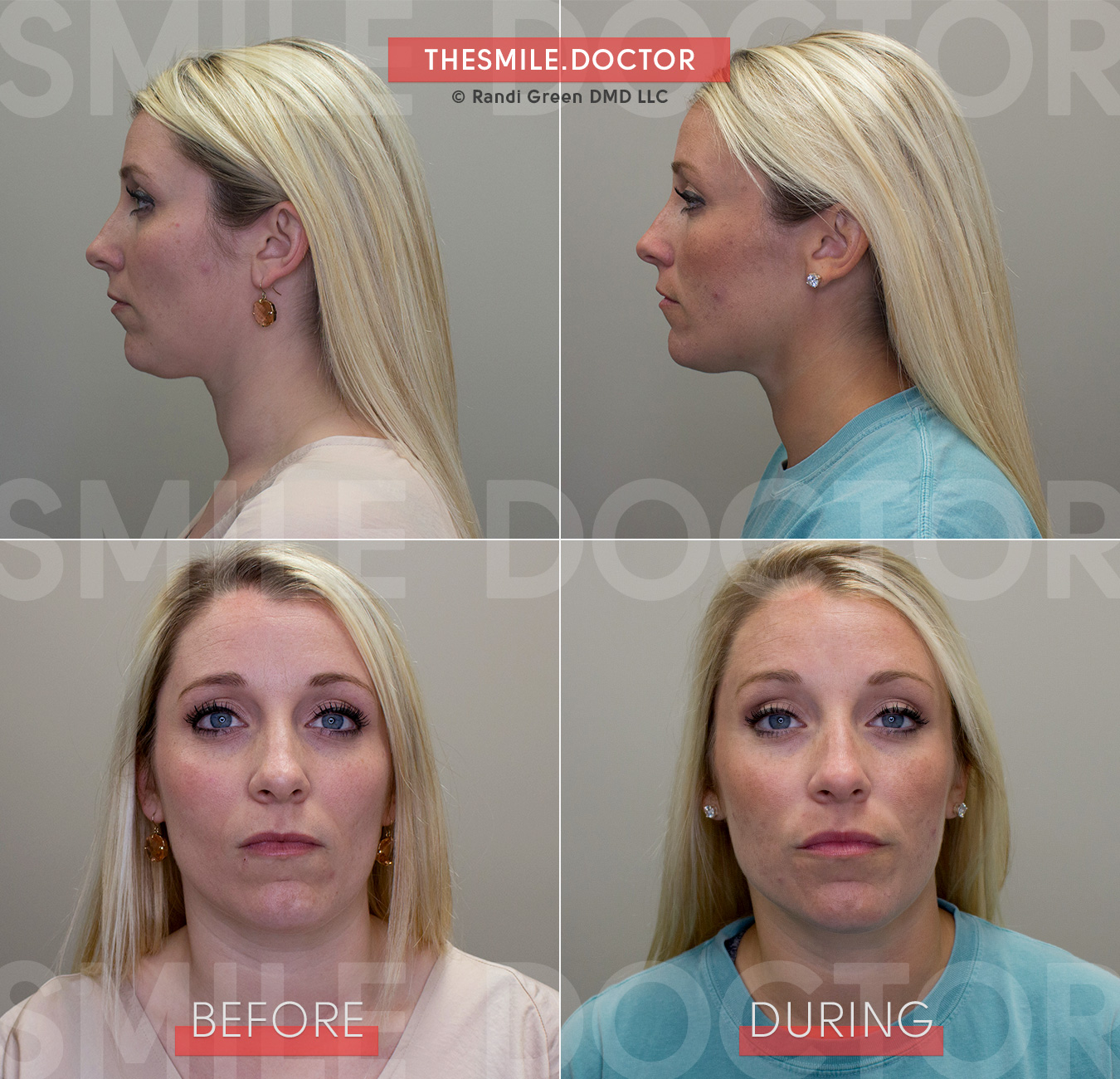 Dr. Randi Green's smile makeover stories are life-changing.
Take the next step toward premier 1-on-1 care with the smile team.