April 17, 2019 | FEATURED UPDATE
AGGA Day 364 | Daniel 2.0 is here!
I have seen huge results from one year in AGGA treatment. I am in awe of what facial growth guidance treatment has helped me achieve both physiologically and aesthetically.
My quality of life has changed in a very positive way.

I no longer have to strain my neck and back forward to breathe.

I no longer breathe through my mouth.

I no longer wake up in a huge brain fog.

I don't slouch nearly as badly and my posture is greatly improved.

I look younger and don't have the dark circles that I can't be unseen in all pictures before my 35th birthday.

I am sleeping so much better.

I have not had any vertigo episodes since starting treatment.

My facial appearance is so different in the best way.
July 31, 2019
AGGA + CAB Day 469 | "I haven't lost much body weight throughout the AGGA and ControlledArch Braces process."
I talk with a lot of people that think I lost a lot of weight during AGGA treatment. Some even say I look like "the other brother." That is funny because I do have a brother and we do have some similar traits. I digress. I do take these comments as compliments knowing that while I feel so much better I also look a whole lot better too. ;)
My answer to the weight question is always, no not really. You see...my jaws have developed forward through this non-surgical treatment eliminating the appearance of my double chin and giving me a much more square jawline, along with better nasal breathing.
My weight has fluctuated around five-ish pounds. You be the judge.
Left is January 2018, three months prior to starting AGGA
Right is July 2019 or 469 days into AGGA + ControlledArch Braces
Sorry for the lines. I was testing an app before starting treatment to measure posture improvements and recently learned I can't export photos from the app without the lines. I went ahead and took my post-AGGA full body profile to show the difference after the first part of the treatment.
May 9, 2019
AGGA + CAB Day 386 | When I started my AGGA journey last year, I could only achieve 5-7 pumps and the elasticity of my neck muscles was very poor.
UPDATE TODAY I maxed my posture pump this morning May 9th, 2019. I almost could not believe it at first. My neck has seen huge improvement with increased flexibility and mobility.
I can almost touch my ears to my shoulders now. This is such a huge part of treatment and it's not just AGGA. The appliance is not magically fixing all of my issues.
The way LVI doctors like Dr. Randi Green treat FAGGA or RAGGA patients combines light stretching, myofunctional tongue exercises, proper sleep and postural exercises - if you're not paying attention to all of these body systems or as some refer to as "bodywork" during AGGA treatment you might not see optimal results from your treatment.
February 19, 2019
AGGA Day 307 | "It looks like I had a facelift. I can't get over how AGGA has changed my face and jawline appearance."
I'm astonished at what ~10 mm of remodeled bone behind my canines has done for my nasal breathing, quality of sleep, and facial appearance.

I notice the largest changes in my 3/4 profile view and straight on photos. I am in the process of finding old photos to compare to these new ones with lips and cheekbones! Prepare to be shocked. I didn't realize my face was so dished from mouth breathing.
February 13, 2019
AGGA Day 301 | The Day Before Valentines Day
The difference from April to the start of this in a word; astonishing. You can really see the difference in the sclera display now (whites of my eyes under pupils) I am continuing my journey and shooting for at least 3 mm more of remodeled growth with AGGA but the results on my health and appearance are incredible.
February 5, 2019
AGGA Day 294 | "I'm getting close to controlled arch braces to close these spaces! My facial features and posture have gone through profound positive changes."
Not nearly enough people know about AGGA as a non-surgical option to jaw surgery. I will continue to document my AGGA story and hope to help those looking for answers. There have been huge advances with AGGA and Facial Development Orthodontics, I am living breathing proof. I'll be going into the Controlled Arch phase soon, but currently have achieved ~10-11 mm of remodeled growth in around 9 months with AGGA.
The posture pump is helping to decompress my spine which allows me to stand and sit with better posture.
AGGA treatment is more than moving jaws into a physiologic position. It also involves putting ones self into correct posture. One of the ways in addition to AGGA that helps make this correction is using a posture pump device. Here is me right before my last adjustment using it to help my neck and spine re-align. The cool thing is Dr. Green had one for me as a new patient and I walked out with it on my first day.
Proper oxygenation during sleep is incredibly important during AGGA treatment
During treatment I have also realized that I sleep much better when taping my lips closed.
I have tried a variety of lip tape including 3M Micropore medical tape but I really like Somnifix as my favorite night-time solution to keep my mouth closed and my tongue in the proper resting position in my palate.
However after a lot of trial and error I'm back to using medical tape for one simple reason. It doesn't have a hole.
December 12, 2018
AGGA Day 238 | "My sleep test score is lower than the initial test for obstructive sleep apnea. Yay!"
While my test revealed a lower AHI score it is not as low as I want it, but I'll take any improvement. I will be the recipient of a posterior tongue tie release soon, and this should help. In conjunction with that, I will need to re-start myofunctional therapy to continue working towards better oral posture. It's really hard for me to keep my tongue at the roof of my mouth where it's supposed to stay in the daytime, but at night it's falling back creating issues. The good news is that AGGA is making room for my tongue to finally fit! I need to double down on retraining my tongue and will post more about this soon.

Now it's up to me to schedule the tongue tie release and continue multi-factorial treatment to keep seeing sleep score improvement. I likely will see an ENT in the near future to look at my sinuses too. I have avoided this like the plague but it is something else I can do too. In the meantime, I am using NeilMed nasal products to help loosen and clear my sinuses.

My apnea and hypopneas are 2x higher when sleeping on my back - I'm naturally a side sleeper, but to work on this, I'm going to try wedging a pillow behind my back. My score would have been lower had I stayed on my side all night; something I can't control without something blocking me from turning over.

The outcome *5 points lower* than my initial test shows me there is more to do and attack this from every angle. I will likely need a sleep appliance after AGGA + Controlled Arch orthodontic treatment.

I'm hopeful as the retest shows me that progress has been made, but there are other factors I need to work on in-tandem during treatment to maximize my efforts while in AGGA treatment. Definitely more to come!
November 7, 2018
AGGA Day 202 | "We have new bone remodeling and AGGA is making my face look better!"
August 2, 2018
AGGA Day 106 | "This is getting serious, are you kidding! The guy on the left isn't sleeping well. The one on the right looks like a different person! I'm amazed at this transformation with AGGA!"
June 29, 2018
AGGA Day 72 | "Is it FAGGA or AGGA? It's literally the same thing. The (F) stands for fixed. Here is my latest facial growth video update."
I posted this on a Facebook live to show my AGGA facial growth success story. I thought it could be beneficial here too. It was shot in late June 2018 shortly after my second AGGA check up with 4 mm of growth behind my canines in just two months!
***UPDATE*** I want to state clearly that I have not cured or fully fixed obstructive sleep apnea with FAGGA treatment thus far. Facial growth treatment has lessened the severity of my obstructive sleep apnea and I hope that I can lower my AHI score. I can tell that I'm sleeping better. The dark circles seem to be fading a bit, but there is so much more to come.
AGGA Day 70 | "I'm seventy days in with AGGA Facial Growth Orthodontics ."
May 18, 2018
AGGA Day 30 | "I'm thirty days in with AGGA Facial Growth Orthodontics."
May 8, 2018
AGGA Day 20 | "I'm twenty days in with AGGA Facial Growth Orthodontics with Dr. Green."
I want to share some updated photos of my profile throughout my journey. I'm already starting to see small changes in my mid-face, and I'm less than one month into my AGGA treatment! In addition to helping lessen sleep apnea, this treatment should help to square my jaw and give my face more fullness, like a cosmetic facelift without the surgery.
April 18, 2018
AGGA Day 1 | "It's AGGA Day! My first day with anterior growth guidance appliance (AGGA) and the start of my facial growth journey with Dr. Green."
✦ Friendly disclaimer below and I mean it in the nicest way. ✦
Do not take this lightly and do not take anything I'm talking about on this page as medical advice; it's not. This is my own experience with AGGA and Facial Growth Orthodontics. Please seek care with a physiologic dentist, including a qualified LVI doctor like Dr. Randi Green, who understands the mouth-body connection before starting any treatment such as Facial Growth Orthodontics or anything related to spinal decompression with a posture correction device.
You must be determined a healthy candidate for this by full examination for any dental or orthodontic treatment.
There is a lot of misinformation that exists on the internet about this treatment from people who are not doctors and provide their own conjecture about AGGA treatment.
Do yourself a favor and do your research and due diligence, but also see a qualified physiologic dentist that can show you case non-surgical results, share real success stories, and answer questions with you face-to-face.
A qualified LVI Dentist Profile will look similar to Dr. Green's
March 6, 2018
AGGA Prep Day | "I'm prepping for AGGA with digital iTero scans, a comprehensive cleaning, and spacers!"
Hi, I'm Daniel, a patient of Dr. Randi Green's. I am keeping this blog in addition to posting videos of my facial growth treatment with Dr. Green.
Day number one! We are prepping for my FAGGA growth appliance. Digital scans of both my top and bottom arches were taken with the iTero digital scanner. To scan both top and bottom arches took about 5 minutes with no goopy impressions!
Once complete the scans were sent to the only lab that will make my customized growth appliance with the press of a button on the iTero.
The lab that makes the FAGGA or AGGA makes each one totally custom, and it takes about a month to get it back.
The purpose of the anterior growth guided appliance will create space and remodel bone in my maxilla (top jaw) to create more space for my airway and give me a mini dental facelift at the same time. My mandible (bottom jaw) will also move forward to match teeth up correctly.
I hope that AGGA treatment helps me to lessen the severity of my obstructive sleep apnea. I will re-test and share the results from my initial sleep study and compare against a study done towards the end of treatment.
Here is a quick background into my previous orthodontic treatment and childhood sleeping problems.

In addition to having crooked teeth, I have endured postural problems from hunching in front of multiple computer screens for half my life. I also learned that I have obstructive sleep apnea.

I had traditional retraction orthodontics twice, three times if you count my first appliance as a kid, but I digress, my teeth never stayed in their corrected place.

After my first orthodontic appliance, my parents wouldn't let my orthodontist perform a jaw surgery. What I know now actually would mean shortening my lower jaw to match the top would have made my problems a whole lot worse and potentially more predisposed to TMJ pain symptoms. My main problem is that I don't have enough room for my tongue to stay positioned at the top of my mouth. This incorrect tongue position is one of the leading culprits of a mouth breather and most people with mid-face deficiency due to breathing through their mouths instead of noses have crooked teeth.
At this first visit I was also due for my six-month comprehensive cleaning, so Jyssica also gave me a top-notch cleaning with the Ultrasonic Piezo (high-pressure water scaler) It's so much better than the old way of hand tools.
I'm pretty good with flossing and using a Waterpik daily, so I did not make her job more difficult. I recommend the Key Lime Pie Flavor if you're looking for a new polish flavor.
AGGA Facial Growth Day is Here!


Doctors Notes:
Daniel presents with Class III malocclusion and has been through previous orthodontic treatment. He has bouts of vertigo and dizziness in addition to scoring quite a high number of sleep apnea events during a recent sleep study screening. He has forward head posture out of necessity and bad postural habits formed from many years at a computer desk.
We determined that he was a good candidate for a sleep and snore device but with his current facial growth guidance treatment he is trying to avoid a nighttime sleep appliance. He may still end up needing an oral appliance after AGGA to help with sleeping issues.
He was not a good sleeper as a young child and led to early habits of mouth breathing which kept him breathing improperly for many years leading to worse malocclusion.
He had expansion appliance therapy to widen his arches as a pre-teen, and his parents were given the option of jaw surgery. They never consented to orthognathic surgery to cut his jaw and waited until he was old enough to have braces.
Surgery is not the only option to correct a bad bite, crooked teeth, or mandibular hyperplasia.
He is thankful as an adult and credits his parents for not allowing traditional orthodontic philosophy to enable a surgeon to remove bone.
Fast forward. Traditional orthodontics and Invisalign treatment have both straightened his teeth, and both orthodontic treatments gave him a smile he wanted, but as a teen, his teeth have never been put into the proper occlusion. In essence, the root problem was never addressed and fixed until now.
In Daniel's lifetime, he has gone through three different rounds of orthodontic treatment. One expansion appliance as a pre-teen, braces as a teen, Invisalign as an adult, (now with permanent lingual bar bonded to the back of his teeth) and now round four, facial growth expansion to finally fix the root of his problem which is improper mouth breathing and incorrect tongue posture.
This facial growth guidance treatment will develop his maxilla approximately 6-8 millimeters forward. He will remodel bone helping his jaw move forward and out of his airway also bringing the mandible forward. This treatment will help him correct forward head posture and improve posture, help to reduce obstructive sleep apnea, resolve any TMD signs and symptoms and of course help straighten his teeth.
Daniel will post updates of his journey with facial growth orthodontics on this blog. Stay tuned!
See Dr. Green's answers to the top three most frequently asked questions about AGGA facial development orthodontic treatment.
Facial Growth with AGGA works with children and adult patients and can start at any age.
See some of Dr. Green's recent jaw growth cases. Fuller lips, improved posture, and a non-surgical facelift appearance are but a few benefits in addition to straight teeth!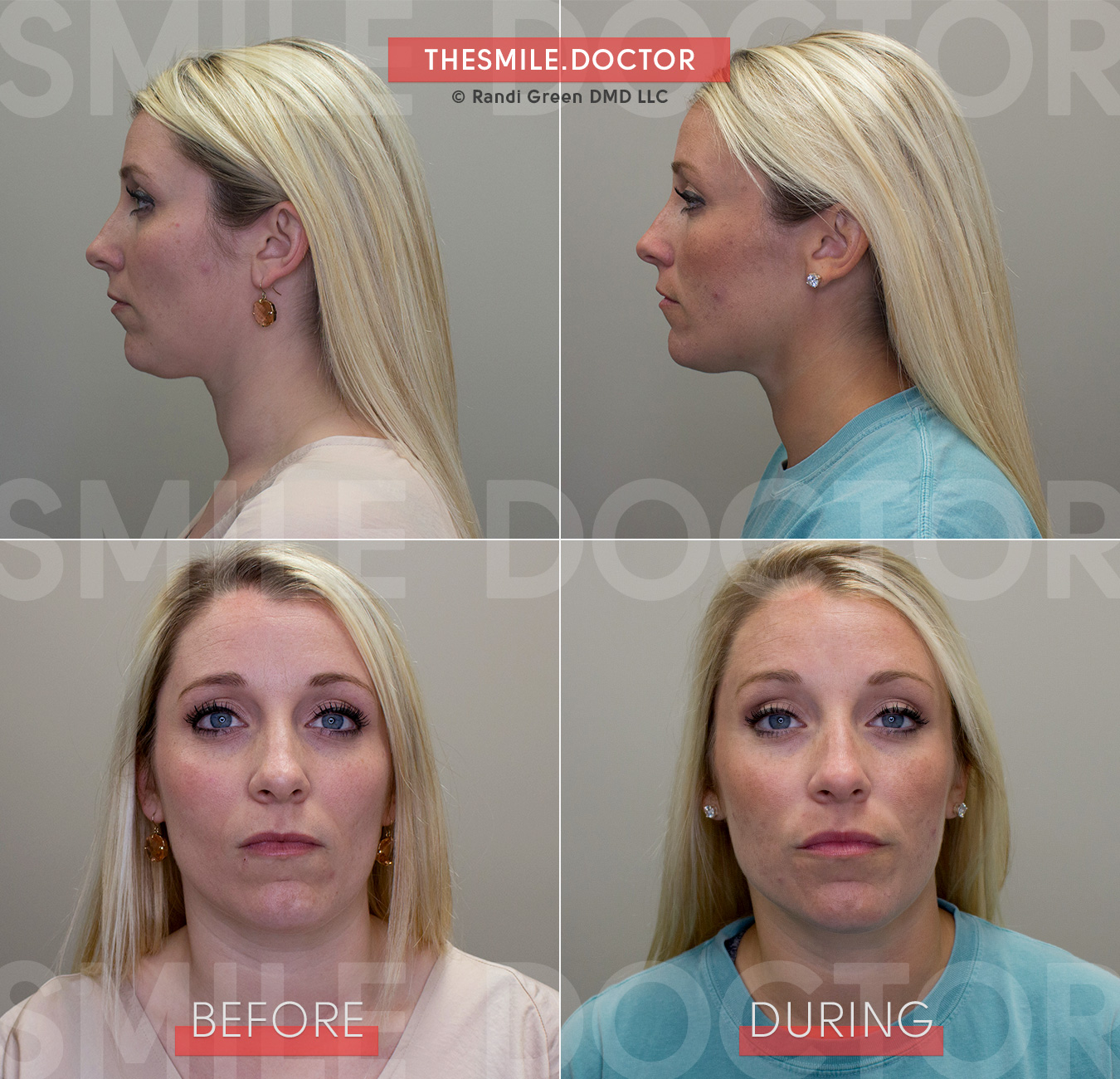 Contact the Smile Team to see if you're a candidate for
Dr. Randi Green's Facial Growth Orthodontics.