What is Facial Growth Orthodontics?
Facial Growth Orthodontics with AGGA can correct underbites, overbites, and crossbites without expensive and risky jaw surgery.
AGGA Facial Growth Guidance Development Featured Case
AGGA Before and After | Growth Guidance Orthodontics with Amanda
Facial Growth Guidance Orthodontics with our patient Amanda
AGGA Appliance Before and After Examples
Facial Growth Orthodontics Featured Cases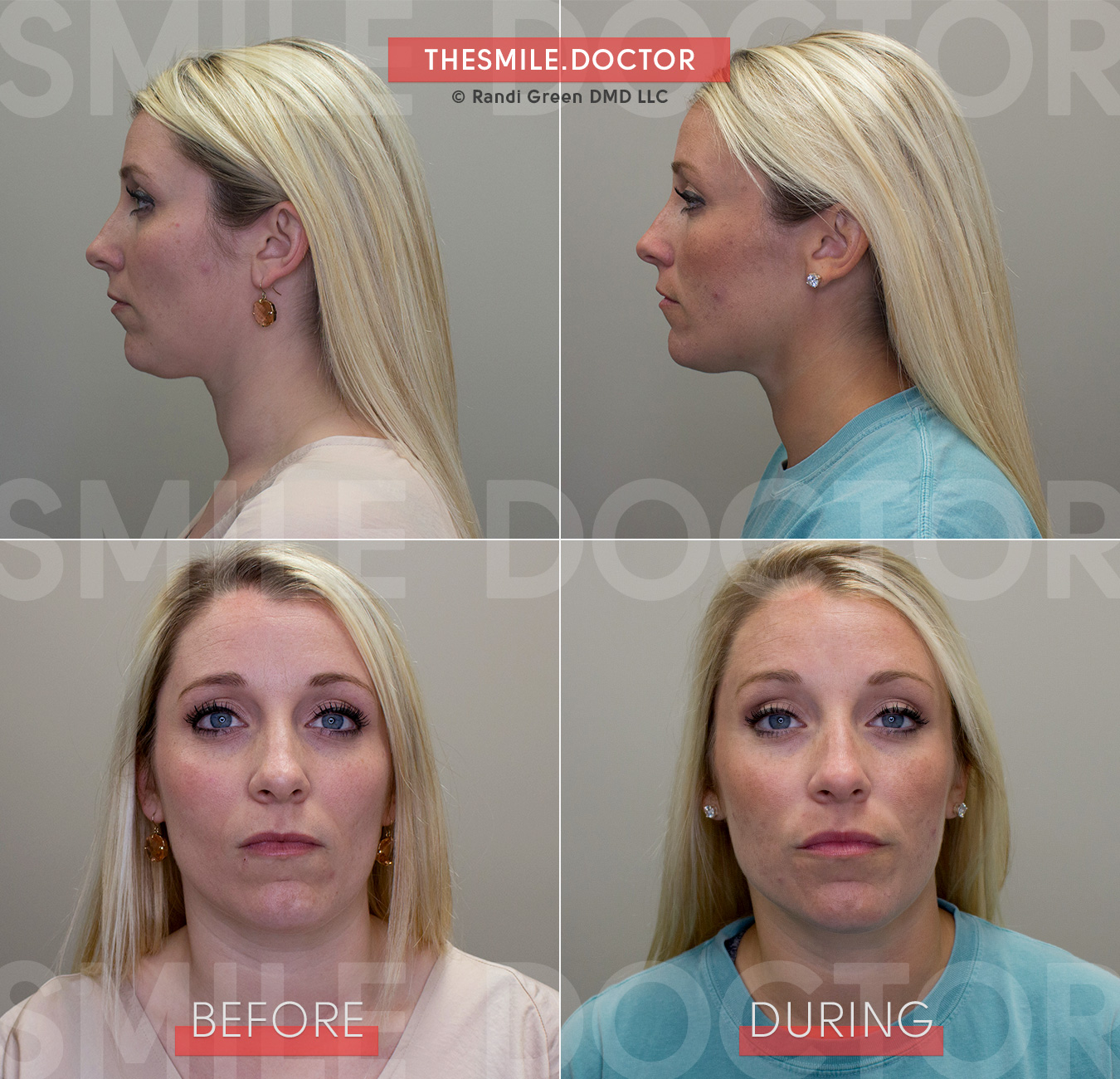 For many years, dental bite problems like underbites, overbites, and crossbites were very hard to fix in adults. Often, expensive and risky jaw surgeries were the only option. Maxillofacial TMJ jaw surgery often requires braces before and after the surgery to align the bite. Treatment and jaw surgery to correct the bite could take years and be quite painful.
Fortunately, the field of dentistry is always advancing, and a non-surgical jaw correction option now exists. Facial growth orthodontics, also known as jaw growth orthodontics, or physiologic orthodontics with Dr. Randi Green can correct underbites, overbites, and crossbites in children, adolescent, and adult patients.
For most patients there is a dental alternative to facelift surgery!
No jaw surgery required.
Dr. Green uses the Anterior Growth Guidance Appliance or AGGA to develop faces to their genetic potential reversing the effects of aging and resolving TMJ symptoms.
See More AGGA Before and Afters
See more of Dr. Green's AGGA before and afters here and more are available with an in-office consult. Watch Dr. Green's videos explaining more about facial development techniques that have helped many avoid jaw correction surgery with facial growth orthodontics.


Finished with your AGGA research? Take the first step with Dr. Green and the Smile Team.
Please complete our online new patient registration and a concierge will be in touch soon!
Top 3 Questions about AGGA Facial Growth Development Treatment
How is facial development orthodontics different from traditional orthodontics?
Facial growth orthodontics start with what we call the "big three."
The big three are nasal breathing, lip seal and proper tongue posture.
When those three things are not in place during the growth and development of the jaws, disharmonies and imbalances in the craniofacial structure can result.
We utilize an orthodontic technique called facial development orthodontics or jaw development orthodontics that can correct some of those disharmonies that form during growth and development when the big three are interrupted.
We use this functional orthodontic technique with kids and adult patients. The premise behind the anterior growth appliance strategy is to help develop the jaws to their true genetic potential.
When those big three were interrupted during growth and development, we commonly see patients with a top jaw that is too small, (underdeveloped upper jaw) a bottom jaw (underdeveloped bottom jaw) that is too small or maybe a top jaw that's set back, a bottom jaw that's overgrown; common terms for these things are underbites and overbites.
Our growth guidance orthodontic therapy allows us to develop the top jaw to the proper size, and that frees up our ability to get the bottom jaw in a really nice relaxed physiologic bite position.
What can I expect from facial growth orthodontic treatment?
The goals that we can accomplish through facial growth and development provide the ability for our patients to re-establish the big three in proper working order.
1) Return Mouth Breathing to Nasal Breathing

Consequently, patients that were mouth breathers before, we can investigate and return them to nasal breathing.

2) Teach Proper Lip Seal

We teach patients how to keep a proper lip seal when their jaws are developed to the true potential that they should have developed in the first place.

3) Train Proper Oral Posture

We can train patients to get their tongues back to the right position.
What is AGGA?
We utilize a removable (RAGGA) for children patients or a fixed (FAGGA) for adult patients.
We refer to both as (AGGA) anterior growth guidance appliance.
The fixed (FAGGA for adults) or removable (RAGGA for children) AGGA growth appliances put light pressure on the nasopalatine nerve that runs right through your palate.
The growth appliance stimulates remodeling and development in the entire mid-face of the patient helping with not only non-surgical cosmetic enhancement, but TMJ related issues too.
Remodeling and bone development occurs behind the canines, but you'll also see a lot of facial changes for our AGGA patients.

Some patients have flat cheekbones, and we will see those start to develop.

Some patients with self-described, 'mouth breathing face' report better ability to breathe nasally as their nasal passageways open more fully to take more oxygen. Thus increasing their quality of sleep by alleviating or eliminating sleep breathing problems.

Other patients will have a lack of a neck, some of my patients affectionately call it a 'turkey neck.' You may start to see during growth guidance with AGGA that it will disappear, and they can achieve a more defined jawline and better angle of the jaw.

Some patients liken AGGA treatment to a non-surgical dental facelift by also seeing decreased facial and smile lines and a fuller appearance of the lips and cheeks.

Other things that can happen are upturned noses may straighten.

We can develop a nice big broad, healthy beautiful smile with perfectly straight teeth.
With AGGA you can become a healthier version of yourself and enhance your appearance.
Jaw Correction is Possible Without Surgery

Does jaw development orthodontics move teeth in adults?
Jaw development orthodontics actually works with the physiology of the body. The anterior growth guided appliance or AGGA puts light pressure over a nerve in the palate, and by doing so, it activates growth centers in the body to turn on and stimulate bone remodeling, not just in the top jaw but in the entire mid-face region.
Traditional orthodontic expansion relies on pressure on the teeth and so by putting pressure on the teeth, moves the teeth through bone. While that can be very effective in a child patient, it can be almost dangerous in an adult patient and cause potential loosening of the teeth and possible gum tissue loss. Jaw growth orthodontics, especially for adult patients, opens up a whole new avenue of robust remodeling and development.
Growth Guidance Orthodontics does not require corrective jaw surgery. Facial growth orthodontics can fix bite issues from an underdeveloped top jaw, TMJ pain, facial pain, bad posture, headaches, migraines, decreased airway volume, sleep apnea, and premature facial aging.


AGGA Before and After | Courtney
Jaw Expansion Without Surgery with Growth Guidance Orthodontics
AGGA Before and After | Growth Guidance Orthodontics with Daniel
Growth Guidance Orthodontics with our patient Daniel
Is the AGGA Growth Appliance Right For You?
Take Action with a Facial Growth Evaluation with Dr. Randi Green
After these underlying issues are addressed, a growth appliance is used to stimulate new bone growth in the upper jaw (HINT: a small upper jaw is usually the reason we develop bad bites).
Once the top jaw develops to its full genetic potential with a growth appliance, ControlledArch® Braces are used to create a broad, beautiful, straight and healthy smile.
Unlocking the Genetic Potential with Orthopedic Development Without Maxillofacial Surgery
By unlocking the genetic growth potential of the upper jaw with orthopedic development, a whole host of other issues can be addressed as well.
People with bite issues from an underdeveloped top jaw can have TMJ pain, facial pain, bad posture, headaches, migraines, decreased airway volume, sleep apnea, and premature facial aging. By aligning the bite and growing the jaw, we can improve many of these problems for most patients- no surgery required.
Physiologic orthodontics with Dr. Randi Green can fix your bad dental bite, help you return from mouth breathing to proper nasal breathing, improve your posture, and decrease or eliminate pain from the TMJ and facial muscles.
This physiologic orthodontic technique can drastically improve sunken in faces, enhance facial volume to minimize the appearance of expression lines and wrinkles, improve the presence of a weak chin, and in some cases, decrease the appearance of neck fat (affectionately known as "turkey neck").

✦ Friendly disclaimer from all of Dr. Green's consenting AGGA patients who are willing to share their journeys and amazing outcomes with Facial Growth Orthodontics. ✦
Do not take this lightly and do not take anything we are talking about on this page as medical advice; it's not. These have been our amazing experiences with AGGA and Facial Growth Orthodontics with Dr. Randi Green. Please seek care with a trained physiologic dentist, including a qualified LVI doctor like Dr. Randi Green, who understands the mouth-body connection before starting any treatment such as Facial Growth Orthodontics or anything related to spinal decompression with a posture correction device.
You must be determined a healthy candidate by full examination to start treatment with Dr. Green in the state of Missouri for Anterior Growth Guidance Appliance (AGGA), ControlledArch Braces (CAB), implants, porcelain restorations, or any type of dental work to reach your desired outcome.
There is a lot of misinformation that exists on the internet about this treatment from people who are not doctors and provide their own conjecture about AGGA treatment.
Do yourself a favor and do your research and due diligence about this life-changing non-surgical technique, but also see a qualified physiologic dentist that can show you case results, share real success stories, and answer your questions about treatment face-to-face.
A qualified LVI Global Dentist Profile will look similar to Dr. Green's
Follow Daniel as he blogs about Facial Growth Orthodontic treatment and his experience with Anterior Growth Guidance Appliance (AGGA).
Benefits of Facial Growth Orthodontics vs. Traditional Orthodontics
Traditional orthodontists wait until growth is complete or nearly complete to start treatment meaning that treatment usually begins in pre-teen years usually with braces.
This approach can make treatment more of a challenge and take more time. In contrast, growth guidance orthodontics and myofunctional therapy utilize active growth to re-establish normal facial growth patterns as early as age four until 104!
Why Choose "The Smile Doctor," Dr. Randi Green?
Dr. Green has advanced training to understand the complex interactions between your teeth, bones, muscles, nerves, and airway. This understanding is critical in helping to restore the proper harmony among your facial tissues that can revitalize your facial appearance through facial development orthodontic techniques.
Dr. Randi Green is Springfield, Missouri's only Fellow of the Las Vegas Institute. She regularly trains in the latest physiologic dentistry techniques and scientific advances at the prestigious Las Vegas Institute for Advanced Dental Studies.
She has helped many people in Springfield, MO, from all over the Midwest, and across the United States find answers with pain relief and achieve healthy, attractive smiles.
To learn more about Dr. Green's non-surgical dental facelift procedures, like facial growth orthodontics, please contact the Springfield Smile Doctor by calling (417) 887-5155 today or please send us a brief email request, and we'll be in touch very soon.
Dr. Green is accepting new children and adult patients for facial development orthodontic treatment. The first step is to see if you or your child is a candidate for AGGA jaw development orthodontic treatment.
Take the next step toward premier facial development orthodontics with Dr. Randi Green.